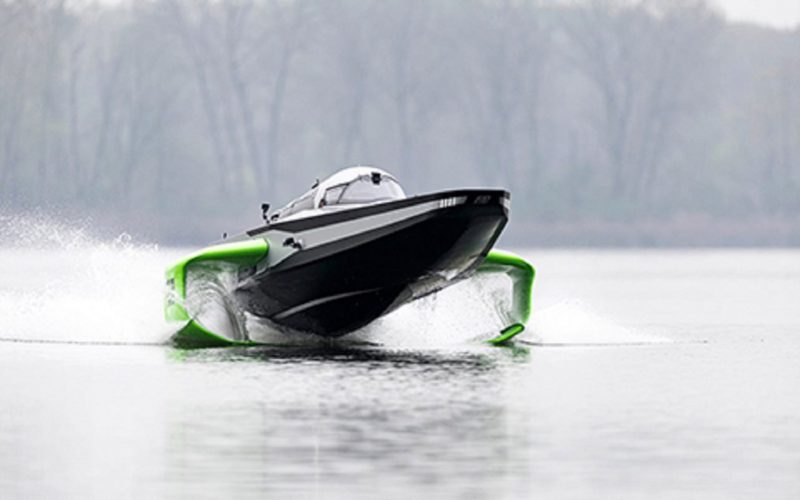 28.04.2022
Venice Racing Team set to join the UIM E1 World Championship
Following the RaceBird's first successful foiling and speed tests on the River Po in Italy, the UIM E1 World Championship has today announced the first team entry set to race in the inaugural season in 2023.
The Venice Racing Team, which has been created specially to compete in E1, has water and electric boating at its heart. The team has been established to provide a focus and platform for the many institutions and companies in Venice, who share a common philosophy and commitment to building a sustainable future.
The new racing entity is the brainchild of entrepreneur Francesco Pannoli, who will run the operation. Pannoli developed the project alongside energy specialist Claudio Iannelli, racing expert and offshore world champion Luigi Radice and motorsport expert Eugenio Razelli.
Francois Richard from Lanéva Boats will also join the team to oversee business development and Nicolò Muraro from Meneghini & Associati will lead the communications team, with the team expected to announce their pilot line-up at the Salone Nautico in Venice next month.
The Venice Racing Team wants to help drive action to protect the city's unique lagoon environment, residential ecosystem, and artistic heritage.
Venice Racing Team has a home embedded in the core values and principles of E1. Known around the world as the 'City of Water', Venice is seeking to be an innovative leader in sustainability.
Mayor of Venice, Luigi Brugnaro, commented: "The Salone Nautico has always maintained among its main goals a particular focus on sustainability themes, also in line with its recent nomination as the World Sustainability Capital. Speaking on behalf of the City of Venice, we can only wish that the new Venice Racing Team will best represent a reality that boasts in its history an important contribution to traditional motorboating."
Francesco Pannoli, Team Principal of Venice Racing Team, said: "We're honoured to be the one to first join this beautiful and engaging project. This is an important moment of transition for Venice, Veneto, Italy and the entire world when it comes to sustainable mobility, even in the water. The E1 World Championship represents a revolution in the nautical world, it gives to the passion for racing the responsibility of being the driver of positive change."
Eugenio Razelli, CEO & Chairman of Venice Racing Team, added: "This project is selecting new green technologies, which are key to the future of our planet and are common for many different industries and applications."
UIM E1 World Championship will be an exhibitor at the next Boat Show in Venice , city that has given its heart and soul to the nautical and sustainability world, from May 28th to June 5th 2022.
Become a sponsor
of the Venice
Boat Show 2023