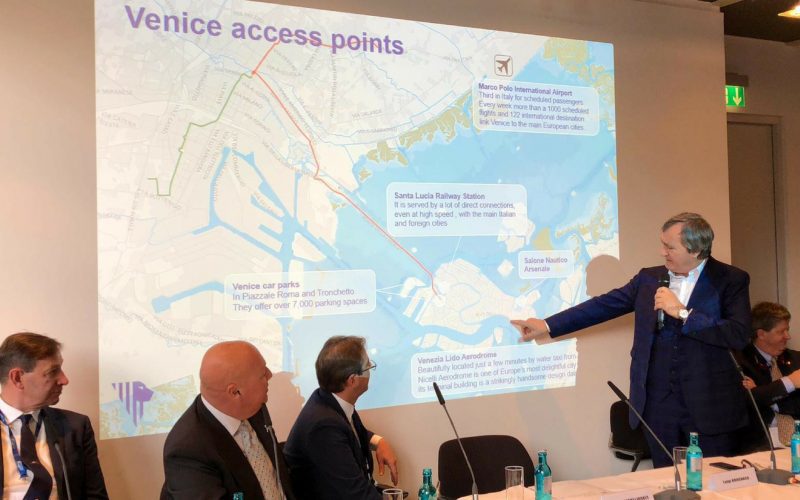 08.03.2019
The Venice Boat Show presented in Dusseldorf
Mayor Luigi Brugnaro "Together we will celebrate the gathering of seafarers"
The Venice Boat Show to be held at the Arsenal of Venice from June 18 to 23 was presented to the press on January 22, 2019 in the press room of BOOT, Düsseldorf, the world's leading showcase for pleasure boating of all kinds that reached its 50th edition this year.
"I would like to take this opportunity to thank the management of the Düsseldorf Fair who appreciated the idea of jointly presenting our Show – commented the mayor of Venice, Luigi Brugnaro – There are deep historical ties between Venice, Veneto and Germany, that we want to revive to tell the close relationship we all have with the sea. This event is a great initiative that involves the entire city and the Veneto Region, with President Luca Zaia in the first place, and we would like it to be a big appeal to all the people of the sea. In fact, it will not be simply an international show of the boating art, on the same wavelength as the Biennale, but above all, it will be an opportunity for families and children to meet and unite".
"In the logo of the Venice Boat Show – continued the Mayor – we have deliberately included the lion of the Republic of Venice and the V of Venice: if St. Mark was the political heart and Rialto the commercial soul, the Arsenal was not only the military site and water gate of the city, but it has symbolised the western garrison of our culture and of our Europe, where ships were built for the historic battle of Lepanto ".
The invitation – continued Brugnaro – is for everyone to come to Venice with their own boats and families. It would be nice to be able to say, one day, that you participated in the first edition. We have planned the development of the Show over a three-year period, because we believe that coming to Venice is convenient, not only for dealers, but especially for those already who already have their boats in the Upper Adriatic. Together, we will celebrate the gathering of seafarers. For this reason – concluded the mayor – the municipal authority has decided to finance the initiative and to support all those who present their boats and their projects, so as to combine the production industry with the art and vitality of a city that has been a garrison of the Adriatic and the Mediterranean, because, as an old proverb says, whoever touches the sea, touches the world".
The press conference was attended by: Petros Michelidakis, director of BOOT Düsseldorf; Alberto Galassi, CEO of Ferretti Group; Galliano Di Marco, director of VTP; Stefano Costantini of Marina Santelena and Alberto Sonino of Venezia Certosa Marina.
Become a sponsor
of the Venice
Boat Show 2023