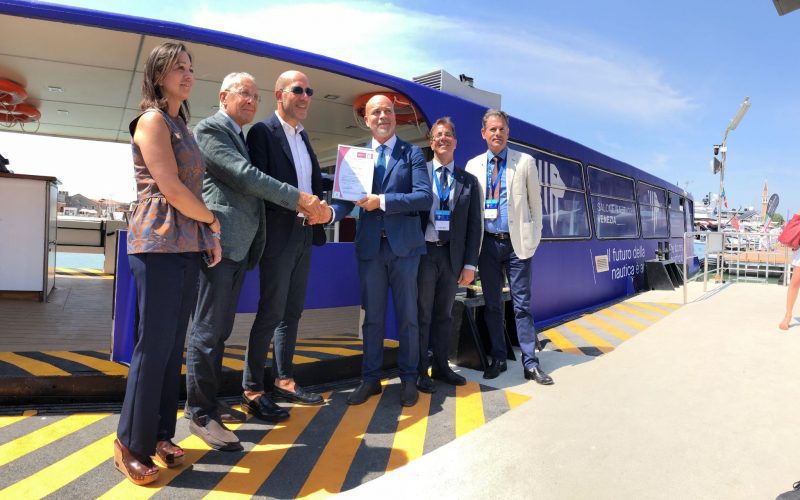 21.06.2019
The Salone Nautico of Venice obtains the ISO 20121 certification
The Venice Boat Show received, today, Friday 21 June 2019, ISO 20121 certification from Bureau Veritas Italia. The delivery ceremony was attended by Michele Zuin, Assessor for the Common Budget of Venice, Piero Rosa Salva, Unique Administrator of Vela Spa; Fabrizio D'oria, Coordinator Technical Secretariat Salone Nautico Venice; Gianluca Cuzzolin, Director Sector Navigation actv, Massimo Dutto, Director Communication, Bureau Veritas Italy; Laura Vannucci, Responsible field Corporate Social responsibility, Siaco.
Vela Spa, organiser of the event, and the City of Venice, on the occasion of this edition of the Salone Nautico, have decided to commit themselves so that they can improve the positive impacts of the event, social, economic and environmental, reducing as much as possible the negative effects. Vela Spa has begun the certification process of the system of management of sustainable events with reference to the norm ISO 20121, that has seen the involvement of various stakeholders, suppliers and local institutions, in the definition of innovative solutions aimed at ensuring the environmental, economic and social sustainability of the event, thus promoting the local economy.
"This certification is a starting point, not an end point – states Piero Rosa Salva, Unique Administrator of Sailing Spa – "was the occasion to raise awareness on environmental issues not only the City but the international public that is visiting the event. Sailing has always been engaged on this front. Not surprisingly, already for previous events, such as the Carnival of Venice, we have obtained this important recognition. Environmental sensitivity is in the DNA of this city". The Salone Nautico  was supported by SIACO di Laura Vannucci for the implementation of the certification system (Sustainable Event Management System).
Become a sponsor
of the Venice
Boat Show 2023