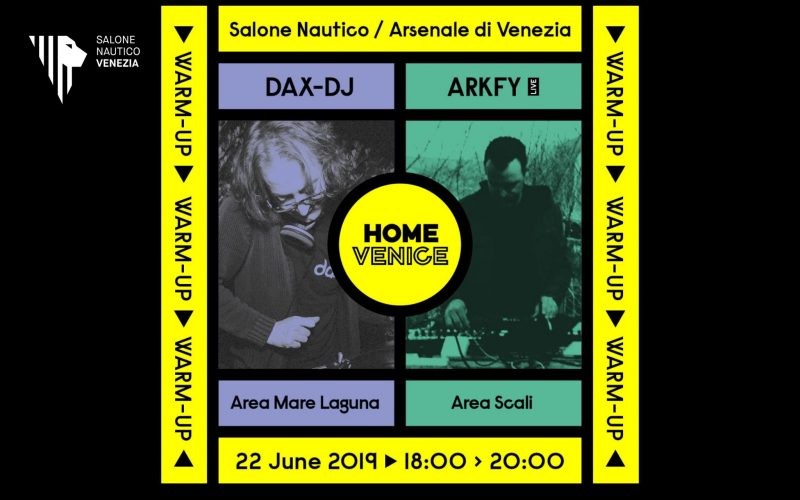 20.06.2019
The HOME VENICE FESTIVAL at the Salone Nautico Venezia
HOME Venice Festival appears at the Salone Nautico, the 22 June in a night when the music meets the sea
Arkfy/Cubek and DAX DJ are the artist that will exibite in the Arsenal from the 18 to 20. Is the event's warm up that will bring the bigger world influences live to San Giuliano in Mestre from the 12 to 14 July.
The Home Venice Festival, the new festival between the 12 and the 14 July will bring in San Giuliano Park of Mestre the greatest international names of the music, appears in the Salone Nautico Saturday 22 June with a fantastic trailer. From the 18 to the 20, the Venice's Arsenal will hosts a crew of selected musicians and dj's for a suggestive mix of classic sounds and trendy sounds.
The programme will start at the 18 meeting in the great "Mare Laguna Area", famous for the Building Bridges sculpture of Lorenzo Quinn, with the sound's evolution of DAX Dj that will move the atmosphere with a mix of electro, funk and disco music. Dario Bedin, that became DAX Dj in the weekend, use the musical researching as a lifestyle, transmitting the message with a dj set stictly on vinyl. His project Partyhard between disco, funk and house music share his consolle with many djs, like Larry Heard, Daniele Baldelli, Sadar Bahar, Steve Kotey, Danny Krivit, Dan Shake, Dj Sotofett, Jamie 3:26 and Tiger and Woods. Is web active with Family House, great net-magazine for the night life.
At 18:00 another musical adventure in Area scali, where the imposing submarine Enrico Dandolo dominates, symbol of the glorious Italian marine tradition, with the energetic dj set by the musician and composer Maximilliano Faccio aka ARKFY/CUBEK. Specializing in IDM and techno since the early 1990s, has Arkfy/Cubek become known through its collaboration with wha? roots record, Made in Italo, Mezzotinto and fabric records. Last year he founded his own label "Akma Records" which represents his most personal and intimate record work.
This summer the stage of the Home Venice Festival will welcome the great protagonists of what already promises an authentic musical revolution that will change the way of living the festive experience in Italy, a renaissance able to break down borders as happens in the most famous international festivals. The "Venetian soul" should also be mentioned among the artists. Alle star annunciate come Aphex Twin, Paul Kalkbrenner, LP, editors, Block, Young Thug, Pusha T, Mura Masa, Modeselektor, Jon Hopkins, rival Sons, Adam Beyer, The vaccines, alborosie, Moodymann, si sono aggiunto i " Gué pequeno, Anastio and Canova, but to represent the music "Venetian" there will also the bands stomp boxx, Furio and ska j, Collective Ninco Nanco, Spiller, Ackejuice rockers, and many Others.
Area Mare Laguna (Scultura  di Lorenzo Quinn) | 18:00 – 20:00 – DAX DJ
Area Scali (Sommergibile) | 18:00 – 20:00 – ARKFY Live
Become a sponsor
of the Venice
Boat Show 2023