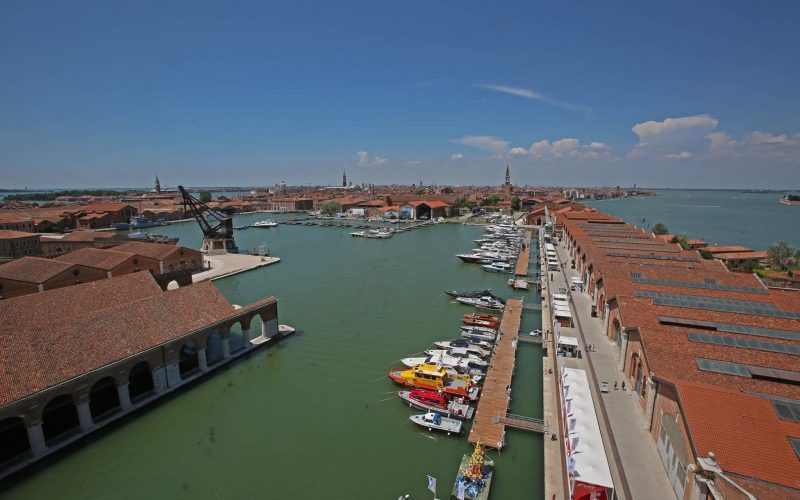 17.01.2020
E-Regatta, competition and events among electric boats at the Boat Show
The Venice Boat Show will be hosting the E-regatta, a four-day event open to all types of electric boats (battery, hybrid, solar, fuel cells, etc.).
The procession prior to the E-regatta event will travel through St. Mark's basin and along the Grand Canal to then return to the Arsenale, where a water area will be reserved for competitors and their electric and hybrid boats. Several companies will also be exhibiting their products at the E-Village within the Show pavilions.
Organization
VeniceAgenda 2028 (VA2028), author of the concept, and Venti di Cultura (VdC) will be coordinating the implementation of the event, mostly managing relations with the competitors. Inland Waterways International (IWI) organizes participation at international boat shows, such as Paris (December 2019) and Düsseldorf (January 2020) and at the 'World Canals Conference', which is being held in Leipzig in September 2020. It will also be organizing the international round table on June 6.
Triumph Group International (TGI) will be coordinating the communication of the event and supporting VA2028 and VdC in identifying and engaging sponsors, who will be assisted by TGI.
The Venetian Motorboat Association (AMV), coordinated with the Italian Motorboat Federation (FIM) will be handling all aspects of the competition and the related technical components. Participants will be assisted by AMV.
Assonautica Venezia will be coordinating the specific management of the procession, which is open to compatible boats, including those that are not participating in the E-regatta event, together with Assonautica Italia, as well as the Italian section of the round table and the Italian participation in the competition.
IWI, Assonautica and AMV will be supported and coordinated by VA2028/VdC, and TGI as far as communication is concerned.
Registration closes February 15, 2020
Become a sponsor
of the Venice
Boat Show 2023