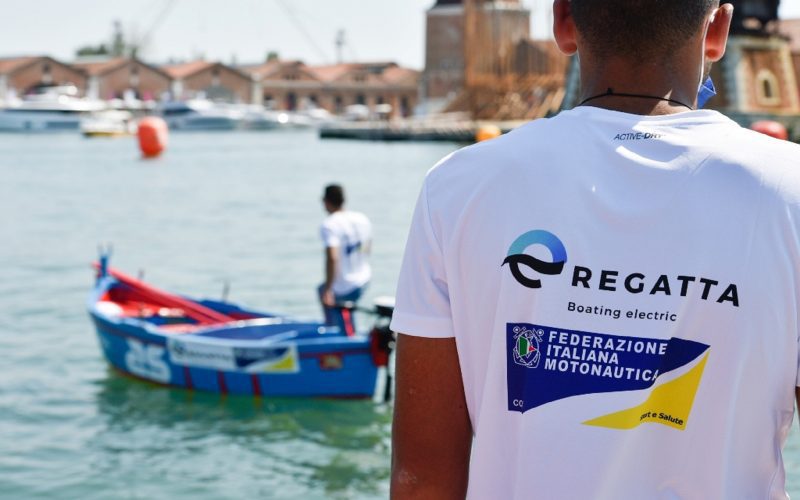 05.04.2022
E- Regatta 2022
Following last year's success, we are pleased to announce that the 2nd edition of the E-Regatta will be held from the 1st to the 3rd of June 2022 at the Venice Boat Show that will be hosted from May 28th to June 5th in the beautiful setting of the Arsenale.
The exclusive format, which for the first time in the world saw three days dedicated to electric mobility, is returning with new types of events designed to fully enhance the performance of these propulsion systems.
The event starts with a parade of electric boats through the historic city of Venice, along the beautiful Canal Grande.
The "slalom" and "e-ballerina" maneuverability competitions, the second featuring each competitor's chosen music. This year a great new addition awaits: a speed race, with only one-design and single-engine boats with one pilot, recognized by FIM (the Italian Motorboat Federation).
A conference about the Ecological Transition will close the three-day events, with a political debate and a technical session where participating companies will have an opportunity to present their innovations. And finally, the awards ceremony.
"The Boat Show – comments Luigi Brugnaro – is once again confirmed in this third edition as a place of experimentation and innovation. The now-consolidated experience of the E-Regatta shows how Venice is really, to all intents and purposes, the oldest city of the future. We are back to give prestige to our excellences, here, in the beautiful setting of the Arsenal, the heart of the Serenissima Venice, that has been the undisputed queen of the seas for a thousand years. Not only a tribute to our tradition but also a statement of our wish to continue to be a place where we can look to the future of the nautical industry through the continuous pursuit of its "green" conversion. Venice confirms to this extent its commitment to becoming the World Capital of Sustainability. Not a simple slogan, then, but an actual recognition for the work that has been accomplished so far and for the strategic outlook towards a future that Venice wants to carry forward with the E- Regatta team. Congratulations once again and happy E-Regatta to all."
The E- Regatta is organized by Assonautica di Venezia, Associazione Motonautica Venezia, VeniceAgenda2028, Venti di Cultura and Triumph Group International in collaboration with Vela and FIM.
All the boats interested in participating in the E REGATTA must be registered at Salone Nautico di Venezia ([email protected] ) by sending the specific E REGATTA  application via e-mail to  [email protected]
Become a sponsor
of the Venice
Boat Show 2023